One More Step in the Right Direction
Back to blog
One More Step in the Right Direction
Creating the first LGBTQ Senior Housing project in Boston
We've known for quite some time that this was coming. As the Baby Boomer generation enters retirement age and starts to look at their future lifestyles, a question looms – where, and what, will it be? Across all demographics and income levels, there is a shortage of supply. By 2031 there will be 75 million people over the age of 65—defining a need for affordable and market-rate senior housing that spans the spectrum from life plan communities to assisted living and everything in between.
The City is tuned into the challenge having created the Age-Friendly Boston Action Plan, the Boston Society of Architects has always supported the Design for Aging initiative, and countless non-profits, for-profits, and other thought leaders have created services and communities specifically focused on the senior population. All ambitious, all supportive, all necessary, there will always be a greater need and room for improvement. Through the exploration of needs within Boston, a particular void is housing that intentionally welcomes and serves the LGBTQ older population. Many people who came of age in a time when they had to live in the cultural shadows risk confronting aging alone. Aging as it is can be a stressful and challenging time for anyone, imagine taking on the stress of having to reconsider your sexual orientation and gender identity all over again. The choice is quite often to either go back into the closet or to live in relative isolation. Creating communities where people can continue to live their authentic life is essential.
Fast forward to the announcement by the City of Boston of the redevelopment of the William Barton Rogers Middle School in Hyde Park into LGBTQ friendly senior housing, a first for the city of the Boston. This new development is a partnership between Pennrose Companies and local, non-profit LGBTQ Senior Housing Inc. DiMella Shaffer is proud to be the architect for this project that will offer inclusive housing and integrate within the fabric of the greater Hyde Park community. The adaptive-reuse of the building will have 74 universally designed units and more than 10,000 square feet of community space where multi-generational LGBTQ programming will occur. This opportunity is a true first and a unique opportunity to explore what it means to create LGBTQ friendly senior housing and its importance for Boston and Massachusetts.
As residents in any city, the aging population must be supported and provided with an equitable platform to continue thriving. LGBTQ friendly senior housing doesn't mean "exclusive" housing. In fact, because of housing laws, it legally can't. What it means is providing a welcoming residence for older adults where diversity and community is celebrated – LGBTQ and non-LGBTQ seniors living in a mutually appreciated and supportive environment. Providing senior housing that is welcoming to all residents is a need in cities across the country, and frankly, Boston had fallen behind.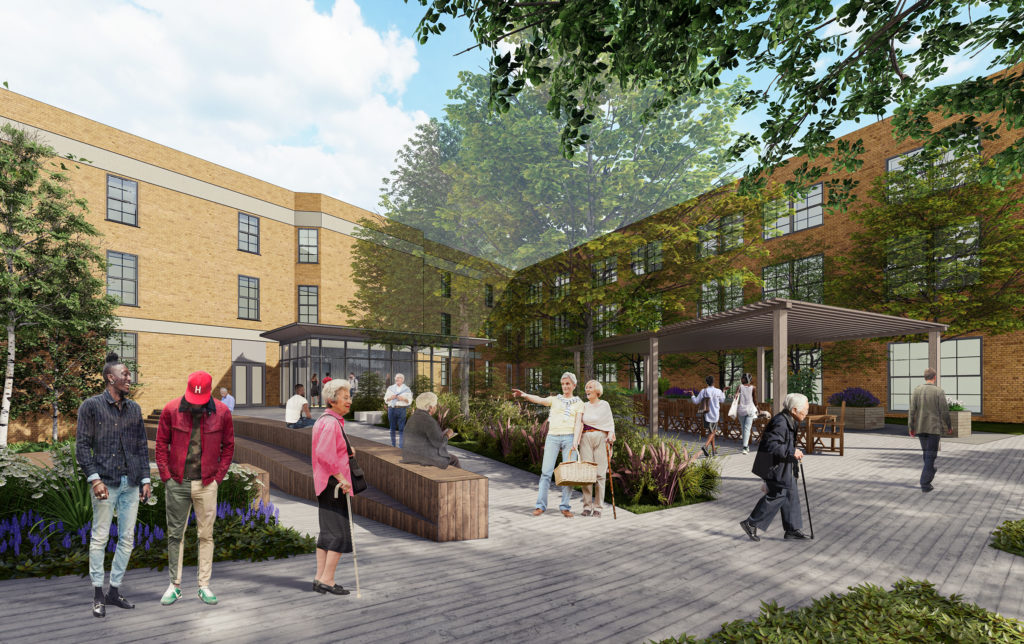 In the case of the William Barton Rogers School, the team approach is to make the building much more than just housing. This will be achieved by connecting into the deep history of Hyde Park, including the 54th Regiment and forging relationships with neighborhood community groups like the Hyde Park Historical Society and Hyde Park Arts Association, among others. Programming and amenities that are accessible to the community will anchor the school as a vital element of the neighborhood and create a sense of cohesion and safety for all residents. The Hyde Park community at large has been very supportive of the project, with numerous local organizations already expressing enthusiasm for collaborating and co-hosting events for both the residents and the greater community in the proposed community spaces. The building design, much like the programming, will focus on integrating not segregating.
There are over 20 cities around the country that have already incorporated or are actively working to incorporate LGBTQ senior housing, with Los Angeles, Philadelphia, and Chicago being the leaders. Pennrose Companies first developed the celebrated John C. Anderson Apartments in Philadelphia, that city's first LGBTQ senior housing development, and are working on Haven Green in NYC. San Diego recently opened its first LGBTQ senior housing facility, and more and more across the country are not far behind in cities such as Wilton Manor, FL and Washington DC.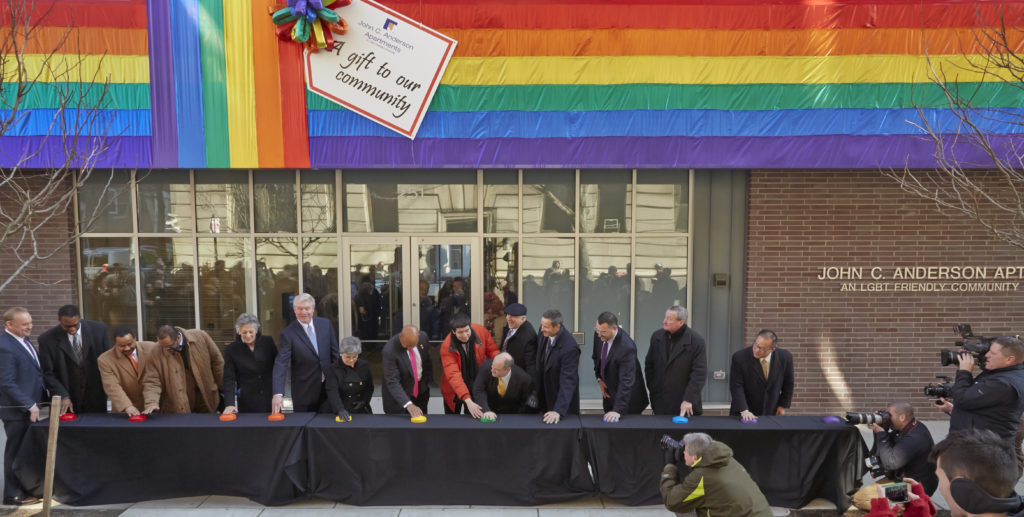 The need for inclusive, affordable senior housing doesn't stop at one project and/or one specific community. It's an issue that carries forward as a city works towards helping all of its citizens age.
DiMella Shaffer is particularly excited about this opportunity as it fills our mission to help our clients make the world more functional, beautiful, and sustainable. Our primary way of accomplishing this goal is through designing physical structures, places where people live, work, and/or play. We work hard to deliver a building that works for anyone who uses and interacts with it. We may not always have a personal relationship with the end-user, but we have ideas and expectations for how they would use the building, how they would live and feel within its walls, and, most importantly, how it contributes to the larger community.