Specifying Furniture for Seniors
Back to blog
Specifying Furniture for Seniors
As an interior designer, choosing furniture is one of the fun aspects of my job. For many people, they think it is my only role in a project (spoiler alert: it's so much more too). While it is fun, it can be tedious, stressful, and extremely detail oriented. Good design seems simple, but an incredible amount of thought goes into everything, including specifying furniture for our senior living clients and projects. Choosing furnishings that have the aesthetic our client desires while providing the practical/utilitarian uses that the piece will serve is an often-overlooked art. I want to share a bit of the process of specifying furniture for seniors.
If you have ever visited a senior living community, you most likely have seen a group of seniors playing cards, stereotypical but true. You may have also sat around a dining table to share lunch as well. Dining and card playing are two very important activities for seniors. There's a lot to consider when choosing furniture to support these activities, and they don't always overlap.
Regardless of the chair's primary use, they must have arms to provide a stable surface from which to push off when shifting from a seated to a standing position. Seat height is also important and should be around 18" with the arm height around 26" so that they fit under the apron of the table. These are the baseline dimensions that we look for when selecting a chair that will be placed around a table.
One of the challenges of finding a dining chair is selecting one that fits a large range of body types. In my experience, Shelby Williams, which is a hospitality line of chairs, banquettes and other dining room furniture, has a great chair that fits a lot of different sized people. Another chair manufacturer that we sometimes use is Kwalu. These chairs have a good "sit" (more on this in a second) and are of an interesting construction: a metal rod surrounded with hardened foam, covered in a vinyl wood aesthetic wrap. These are very sturdy and durable chairs that won't ding like wood. They're also very easy to keep germ-free, which is imperative in senior living environments.
When we say a chair has a good "sit," it's exactly what you think. How does it feel when you place your bum on the seat? Let's be real, there's nothing worse than an uncomfortable chair, especially one that you'll be sitting on every day.
The Sit Test
We have what we call a "sit test" where we gather a half dozen or so chairs and ask the residents to evaluate the chair based on their experience sitting on it. We'll ask them to give feedback on how hard/soft the seat is, how the height feels, and if they feel it supports them well. I won't specify a chair if I haven't tested it myself. Sometimes, even before I bring the chair to the "sit test," I may ask the manufacturer to make adjustments like adding 1" foam to raise the height or if I think the seat is too hard.
Chair Design
Chairs should always have an upholstered seat and back, but the materials can be different. We look for vinyl or polyurethane seats because these are "workhorse" materials that can be easily scrubbed and will hold up to constant use. The back is what gets the most visual mileage. There, we would use a dressier, more decorative fabric, but one that still promotes resident health. Today, there are fabrics that are inherently anti-microbial, fabrics that are bleach cleanable or solution dyed and there are fabrics that are treated for moisture resistance. If we want to use a fabric that isn't moisture proof, we will consult Alta, a finishing company who can provide a "Senior Living Finish" to the backing that makes it moisture proof. We also specify fabrics that contrast with the flooring material for a clear visual separation.
Chair Selection
Another aspect of choosing a chair that we must pay close attention to is what the flooring material will be. If the chair is going to sit on carpet, we specify casters on the front legs only. This allows the residents the freedom to push themselves in or away from the table without assistance. Casters on all 4 legs would make the chair too unstable. If the chair is going to sit on a hard surface floor, we specify "easy glides" or "nickel glides" which are metal and a larger diameter than the standard glide. Our experience is that felt or plastic glides don't work well; the felt sticks to the flooring material and the plastic glides that are standard are often too small of a diameter to carry the load. The nickel glides are usually as wide as the base of the chair leg and the metal glides easily on all surfaces.
One last feature of dining chairs that we'll often look for are cut-outs at the crest rail. This helps staff assist residents if need be.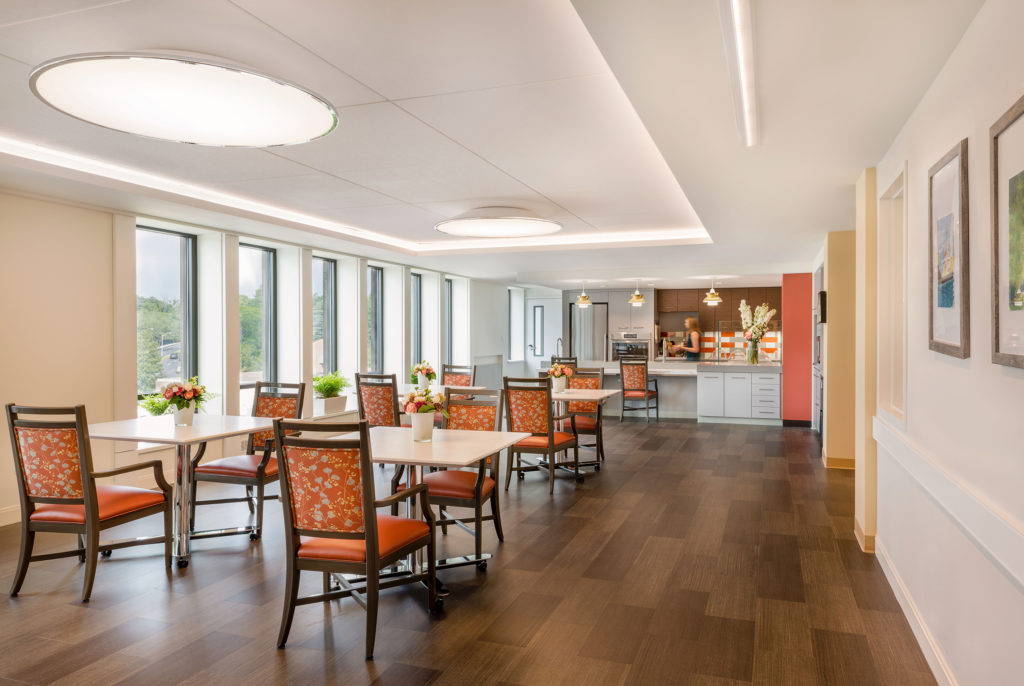 Table Selection
When selecting tables, we think about similar considerations. Dimensions are extremely important. Four-legged card tables have to be 27" from floor to bottom of apron, to allow for wheelchair access. There needs to be at least 32" between the legs. Dining tables are typically pedestal based and 29-30″ high.
In a formal dining room, dining tables will be covered by a tablecloth when in use. This allows for the top to be made from a vinyl material, which can be easily scrubbed and cleaned. If tablecloths are not desired, an alternative is to specify a table with a solid surface or quartz top that is also easy to clean and beautiful. Card tables are often used without a tablecloth and more variables come into play with the tabletop material. Plastic laminate with a wood edge is a favorite because the residents typically have a beverage when they play cards, and we want to avoid creating marks on the surface. We will also use solid surface or quartz for card tables as well
There is one major challenge that comes up with tables. It's important to have tables that can be easily moved and reconfigured for more people or larger top surfaces. Most tables we select have lockable casters for this purpose. However, when the tables are pushed together many times the tops aren't level. If you've ever had two tables put together at a restaurant, you've probably been privy to this dilemma. We keep searching for a solution to this problem.
Just as with our chairs, we will sometimes ask a manufacturer to make custom changes to a table for our client. We recently worked with a client who wanted to select tables from Versteel we needed to specify an adjustable height table on casters that would accommodate both wheelchairs and regular dining chairs. The client also wanted a table that was larger than the typical 40" square. Having a good relationship with the manufacturer, they did an awesome job and mocked it up twice in their factory to make sure that it met the criteria we specified.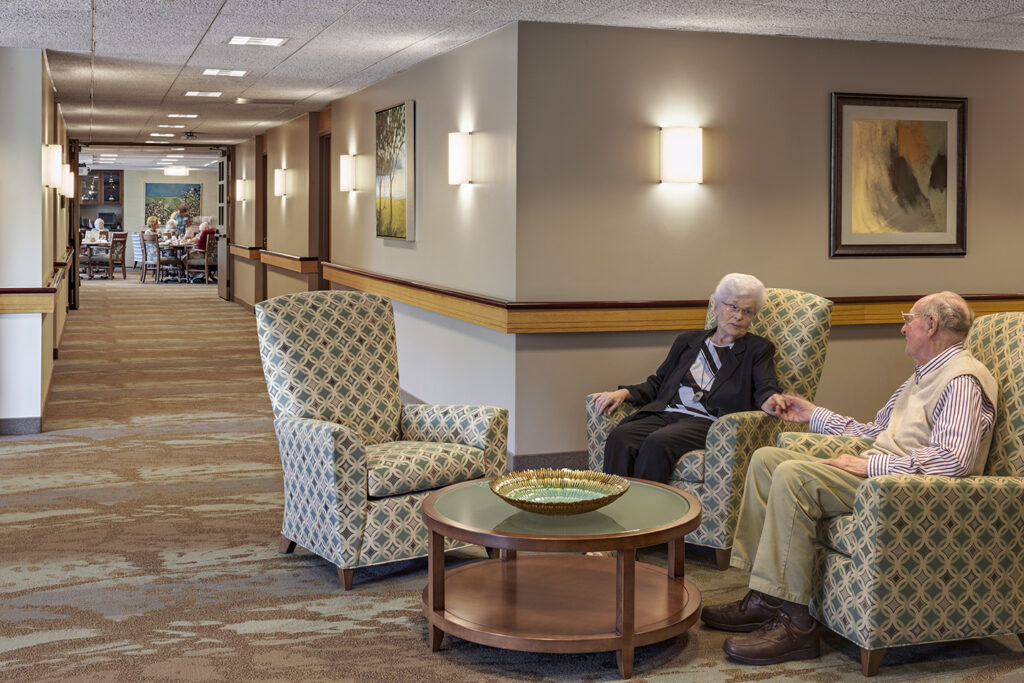 Lounge Furniture
Choosing furniture for lounge areas is a bit different. Lounge furniture must be comfortable and easy to get out of – not too deep or low. Arms need to be at a good comfortable height too. One trend that we're noticing now is that there are a lot less requests for sofas. With a sofa a resident will only have one arm of the sofa to help them stand up, and seldom does a sofa get used by more than two people at a time. Design is leaning towards seating arrangements using just armchairs. In some situations, we don't use coffee tables because they are difficult to maneuver around. When choosing the material and shape, safety of the resident plays a larger role in choosing a coffee table. We don't ever use a glass topped table unless it has a wood edge, otherwise, glass can be difficult to see. We will also lean away from square or rectangular coffee tables that have a hard edge that someone could easily hurt themselves on.
Specifying furniture for seniors is an opportunity to be creative with colors and design, and that's not even getting into fabrics which is a whole other dizzying selection process. Furniture selection is always a lot of fun, but we also must be very conscious and thoughtful throughout the process.