DiMella Shaffer works to create a welcoming LGBT environment
Back to blog
DiMella Shaffer works to create a welcoming LGBT environment
This article originally appeared in the Boston Business Journal. 
When Philippe Saad joined the Boston architectural firm DiMella Shaffer as an intern in 2005, he instantly appreciated the reception he received. As an openly gay man who had grown up in Lebanon, being accepted wasn't expected. But DiMella Shaffer, he said, "was 100% accepting."
The Fort Point-based firm, with more than 70 total employees, has an internal affinity group of LGBT and non-binary employees. What was a welcoming environment for a gay man 17 years ago has developed into a place where transgender and non-binary employees also feel accepted, said Saad, who is now a principal at the firm.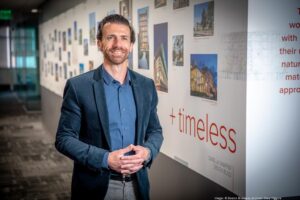 "I want to believe we've supported them as I was supported as a cisgender gay man," he said.
DiMella Shaffer's commitment to such support is one of the reasons the Boston Business Journal named it one of the 2022 LGBT Corporate Ally Award recipients.
The firm is also now working on a project that'll set a new standard for LGBT equality efforts: a housing development in Boston's Hyde Park neighborhood aimed at LGBT seniors. It's  said to be the first of its kind in New England. The project, called The Pryde, will include 74 housing units for a generation that Saad said was found to be particularly in need of outreach and help.
"They come from a generation with a lot of trauma," he said of people who largely grew up in the 1960s and 1970s. "This is where the mission is extremely important. It's not because being gay isn't accepted now, but because this is a generation with a lot of baggage. They may still not feel welcome to be out."
Construction began in April and is expected to last until the summer or fall of next year. Already, more than 500 people from all areas of the state have expressed interest, Saad said. The demand is so great that similar projects are already being considered.
"People of this generation see this as a haven at this point in their life," Saad said.
DiMella Shaffer, whose work includes a life science complex in Cambridge's Alewife area and dorms at MIT and Northeastern University, is also a founding member of the Massachusetts LGBT Chamber of Commerce, and it has lended its support for Saad and other employees to launch two nonprofits to further LGBT equality efforts.
DiMella Shaffer is a founding member of LGBT Chamber of Commerce and Saad is a founding member of Project Q and LGBTQ Senior Housing, each aimed at developing projects like The Pryde that aid the area's LGBT seniors and the latter, in particular, focused on low-income housing.
The firm has also provided pro-bono design work for organizational logos, advocacy posters, T-shirts and banners for Pride parades.
"The doors of the firms were always open for any meetings that needed to happen. We'd sometimes meet weekly," Saad said of in-person meetings before the pandemic, "and it was a place where anyone could gather."