New Office Achieves LEED Gold
Back to blog
New Office Achieves LEED Gold
Celebrating Earth Day in April inspired us to reflect on the journey that began in 2019 to relocate our office.  At the time we realized we were taking up far more square footage than was needed and with some efficiencies around how we organized ourselves, we knew we could occupy a smaller footprint. Before we began searching for a new office, we kicked off the design process with an all-staff survey to identify what was important to people regarding a new workplace. Staying in Boston with easy access to public transportation modes topped the list.
We believe in creating healthy environments for all, regardless of the project type. So, for the design of our workplace, we chose to be guided by WELL principles, while striving for LEED Gold certification, both of which prioritize health, well-being, and the environment.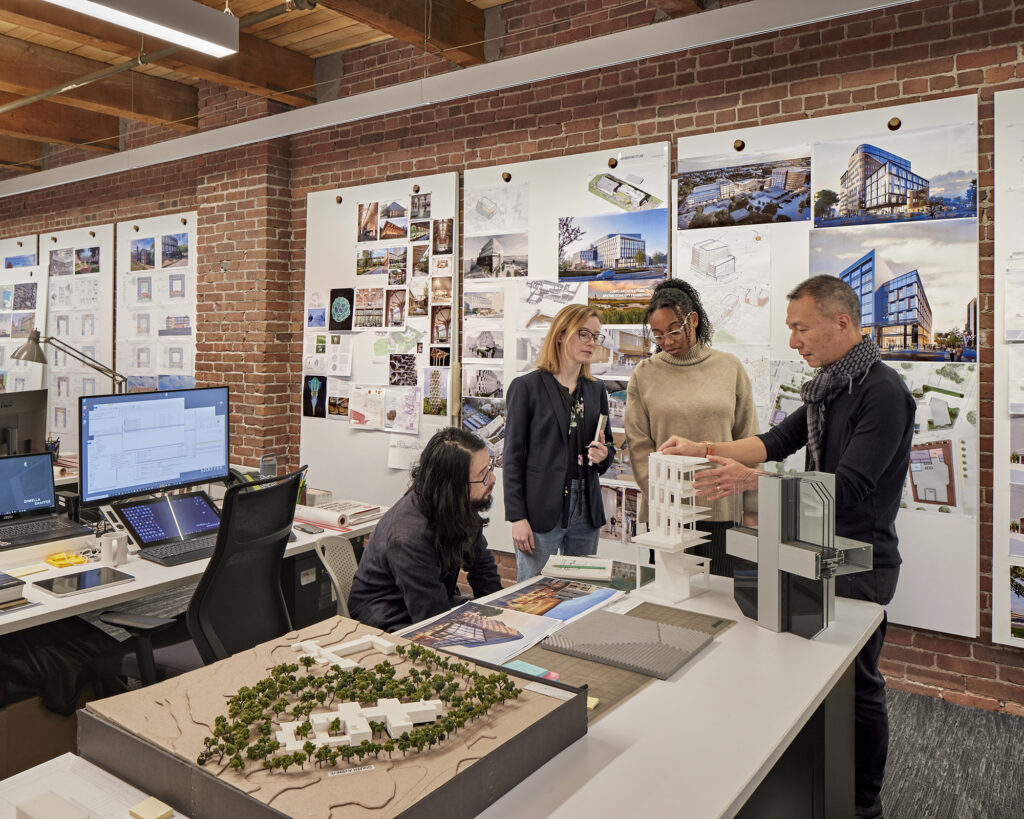 Establish Beauty and Mindful Design.
The "Art of Balance" is a process we navigate on each project where we work to strike harmony among opposing variables throughout design and construction, and the design of our own space was no different.
WELL Feature 87 focuses on human delight, the celebration of culture, spirit, and place, and the meaningful integration of public art. Our office is designed to encourage human delight through transparent collaboration and an openness in which to foster diverse ideas. Brick walls are covered with boards, providing ample pin-up space for iterative design evolution; the main corridor is lined with boards highlighting our current design work, critical to our culture of exploration. Our daylight-filled kitchen is a place where we gather for meals, conversations, design discussions, and celebrations.
We are grounded in the firm's roots, which date back to 1965. A visual timeline, spanning an entire wall, asserts the spirit of history. It begins with the residences that were the original focus of the firm and continues along with imagery that illustrates how the firm's work has evolved over the years, reminding staff and visitors alike of the exploration and co-creation we embark upon with each client to create buildings and spaces with integrity and intention.
Urban office environments often have limited connections to nature. Our office, however, is situated on the fourth floor, among deciduous trees that span from the café and kitchen to the reception area continuing along a wall of conference rooms. We are sensitive to place and time, from the first buds in spring to the plentiful leaves in summer, to the changing colors in fall, and the snow covering in winter. Finally, we begin and end each day passing by the Art of Balance light fixture in our lobby, reminding us of our design philosophy.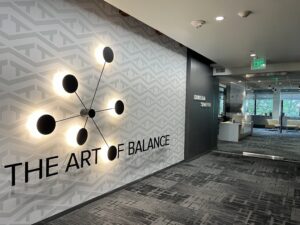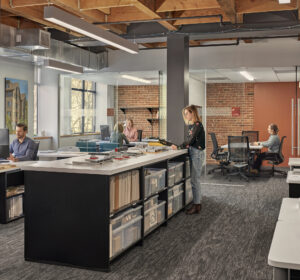 Create a Healthy Environment.
Healthy materials and indoor air quality go hand in hand. We selected an abundance of materials and products with Environmental Product Declarations (EPDs), Health Product Declarations (HPDs), Declare labels, pre-and post-consumer recycled, and no- or low-VOCs through third-party certifications, such as GREENGUARD Gold and FloorScore. These certifications are fundamental to human health, climate health, and circularity; the values we bring to all our projects, and the commitment we've made through the AIA Architecture & Design Materials Pledge.
Environmental Product Declarations, based on life cycle assessment, provide verified information on the impact of a product throughout its life cycle, while Health Product Declarations and Declare labels disclose a list of the material's ingredients and health impacts. VOCs (volatile organic compounds) are emitted as gases and can be harmful to humans and our environment.
We used our office as a test case for measuring indoor air quality and fulfilled the additional enhanced indoor air quality LEED credit. The first three months of measurement showed an average of 449.5 ppm for carbon dioxide, 1.9 microns for PM2.5, and 157.3 ppm for VOCs, all well within the healthy range for regularly occupied spaces. We conducted a post-occupancy evaluation and coincidentally indoor air quality was one of the highest rated for satisfaction, asserting the importance of actual and transparent measured data.
Reduce Water and Energy Consumption.
Tenant fit-out renovations provide many opportunities to reduce water and energy use. Through the selection of low-flow plumbing fixtures our office achieved a 35% reduction, exceeding the minimum 20% requirement.
Lighting power density (LPD) is a metric used to determine how much power a building's lighting system consumes concerning its area. We set out to reduce the LPD by 20%, but we were able to achieve a 40% reduction. We efficiently spaced LED fixtures to accomplish the LPD reduction.
Beyond LPD reduction, selecting lighting with a rated life of at least 24,000 hours or L70, minimizing direct-only overhead lighting, and specifying a minimum color rendering index to approximate natural light were key considerations. Over 90% of the lighting is connected to occupancy controls, and daylighting controls are strategically located.
Our office space was designed to our values, using WELL principles as a guide. It's a place where we all come to work and it's a place where we can all feel good.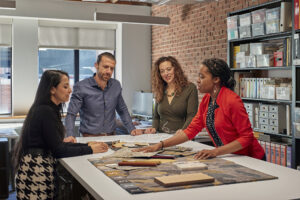 Detailed Project Information and Integrative Process
The renovation of our new office, a 13,000-square-foot tenant space in a historic building at 24 Farnsworth Street in the Fort Point Channel, was completed in October 2020. The scope includes new HVAC tenant systems, ductwork, lighting, controls, and the integration of healthy materials. We incorporated WELL principles and received LEED v4 ID+C: CI* Gold certification in 2023.
*ID+C: CI = Interior Design and Construction: Commercial Interiors
Our integrative process involved the establishment of energy, water, and site selection goals at the beginning of the project. Additionally, the design phase and post-construction surveys led to ongoing feedback throughout the entire process.
Location and Transportation
The location of our office makes it convenient to commute without a car and is within walking distance of bus lines and South Station.  There are almost 500 daily weekday available trips among the various transportation networks within ½ mile of our office.
Water Efficiency 
35% water reduction from the baseline was achieved through sensor lavatory faucets and WaterSense-labeled low-flow plumbing fixtures.
Energy and Atmosphere 
Lighting power density reduced by 40% below the ASHRAE 90.1-2010 baseline.
90% of appliances and equipment are ENERGY STAR
90% of the lighting is connected to occupancy controls.
HVAC systems comply with the ASHRAE 50% Advanced Energy Design Guide.
Minimized the impact of refrigerants, which diminishes the effect on climate change and ozone depletion.
Materials and Resources 
130 square feet of space is allocated for recycling, which includes: mixed paper, corrugated cardboard, glass, plastics, and metals.
Batteries and E-waste are collected before being sent to Earthworm Recycling in Somerville, MA.
Reused 80% of the furniture from our former office.
10 products from at least three different manufacturers are required for the LEED credit, however, our design team selected 20 products with both Environmental Product Declarations (EPD, ISO 14025) and Health Product Declarations (HPD) or Declare labels.
32 tons or 80% of total waste (demolition and construction) were diverted from a landfill.
Indoor Environmental Quality
Awair Omni air quality monitors are used to continually measure and analyze carbon dioxide, volatile organic compounds (VOCs), and fine particulate matter (PM2.5) within regularly occupied spaces.
Carefully selected materials that minimize or eliminate off-gassing, particularly furniture, paints, insulation, ceilings, and flooring.
97% of the selected lighting has a rated life of at least 24,000 hours or L70.
Minimized direct-only overhead lighting to 21%.
All lighting has a color rendering index of 80 or higher, to emulate daylighting more closely.