How Will Senior Living Change in the Wake of COVID-19?
Back to blog
How Will Senior Living Change in the Wake of COVID-19?
To say that COVID-19 has had a devastating impact on the senior living sector would be an understatement. Housing the community most vulnerable to the disease, an estimated 35-40% of all COVID-19 related deaths in our nation have taken place in nursing homes and assisted living communities.
Move-ins and occupancies are down while labor and risk management costs have skyrocketed, draining the industry of an estimated $40-$50 billion so far.
These unprecedented times have community leaders asking the same question: Where do we go from here?
Recently, 70+ senior living providers, designers, representatives from AARP, LeadingAge and the City of Boston convened for a virtual discussion hosted by the Boston Society of Architecture's Design for Aging Committee which is co-chaired by DiMella Shaffer's Principal Diane Dooley, Associate Principal Philippe Saad, and Ruth Neeman of LWDA. The discussion centered around the lessons learned so far, and how the development of healthy senior living environments will change in the wake of COVID-19.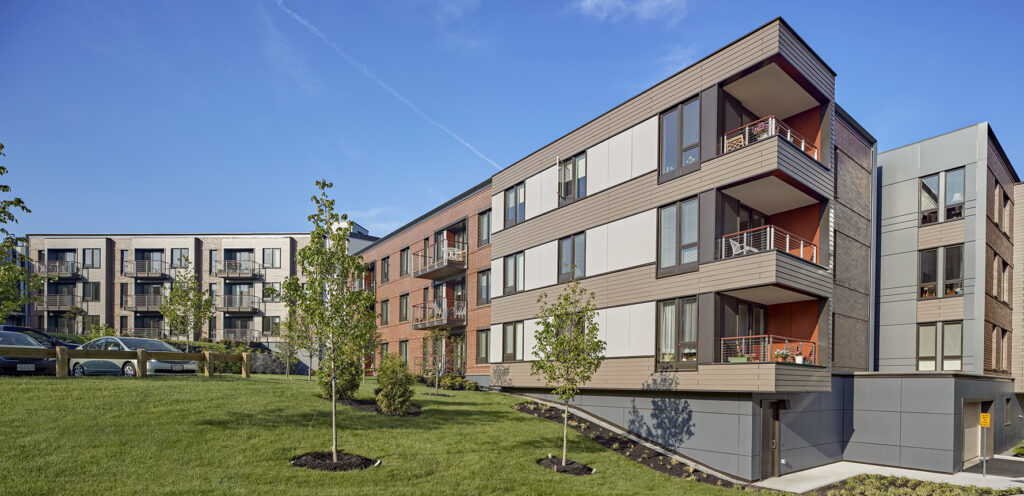 Striking a balance between safety and social isolation
As the pandemic raged on and communities scrambled to respond, hallways emptied, community space cordoned off, and doors were closed indefinitely, cutting residents off from the world.
While evidence suggests that social distancing is an effective defense against the virus, for seniors, it has come at a cost. Social interaction and physical activity, critical to this population's overall well-being, help to ward off dementia, heart disease, and depression. During this prolonged period of isolation, many seniors are feeling lonely, confused, and have seen a decline in their physical and cognitive abilities. The dilemma of balancing physical health with mental and spiritual well-being, especially for those in the much later years in life, is a very difficult challenge for both seniors as well as providers and operators of senior care.
"What we're seeing from a lot of different residents is a disparity in the level of engagement and emotional well-being between those who have the knowledge and technology to stay connected versus those who don't," said Rachel Belanger Project Manager at 2Life Communities. "I think it does raise a question for developers and providers to think about what kind of technology should come built into the apartments, not only for emotional well-being, but also, you could really run your entire operation through standardized technology on a screen that provides both information and comfort. This may have been previously considered a pretty cushy amenity in the past is now a very real need in this new world."
Today's designs will influence future improvements
Along with disease prevention, we learned that providers have had to quickly adapt to meet the needs of their residents in ways they never could have imagined. Because it's no longer safe for seniors to travel to the grocery store or pick up prescriptions, these communities must now build out temporary canteens and sundries shops. The rate of online shopping has gone up, creating an influx of packages that need to be safely stored and quarantined before they can be delivered to residents. Meals are now being delivered door-to-door as opposed to served in a dining room. This has pushed many existing buildings to the limit in terms of capacity and budget, leaving little room for improvement.
For those with projects still in the early planning phases, the last few months have presented a unique opportunity.
"We're designing a new community for middle-income seniors, and one of the silver linings in doing so during the pandemic is that we've been very thoughtful to not design single-purpose spaces," Said Elise Selinger, Real Estate Innovation Manager at 2Life Communities. "The way that we've designed our dining approach is to have three combined, sequential areas: one for dining, one for seating and one for performances. By intentionally designing larger, multifunctional spaces were solving the physical distance need. We've also completely reconfigured the way staff enter the building, added increased outdoor space, and have considered doubling the HVAC system and depressurizing the air to help mitigate the spread of droplets."
A community in Longmeadow MA, Glenmeadow, is undergoing a renovation and in doing so, re-thinking their interior masterplan to integrate multi-use spaces that could double up as small dining rooms, activity rooms or visitation rooms if COVID-19 persists. "The challenge we face as designers when we design multi-use space is to find the right balance of materials, lighting and furniture to create a dining atmosphere in a space that can also be utilized as a visitation space or a cards room," says Kathy LaDuca Interior Designer at DiMella Shaffer
This prompted a discussion around other potential solutions to consider including UV lighting, ionization systems, antimicrobial fixtures and modern furniture that can be easily cleaned and disinfected, all of which need further investigation by designers and operators.
What building design is best for the times we are living in, and how will today's trends shift? Pre-pandemic, baby boomers were already driving change, opting for smaller living spaces in urban areas that provide enrichment and allow them to maintain an active lifestyle. Will COVID-19 and all this forced time spent indoors spark a comeback for the more spacious suburban model? Or will urban developments be less focused on space efficiency and invest in resident wellness. "Balconies for example are almost non-existent in urban residential buildings in Boston" says Philippe Saad Associate Principal at DiMella Shaffer and co-Chair of the Design for Aging Committee, "I think we will start seeing more urban units with balconies whether for senior or families, and urban developments with open space develop post COVID-19. The group also raised the idea of the household model, which could allow for seniors to be isolated together in small groups, mitigating risk while at the same time maintaining critical social interaction and promoting a community setting, over an institutional one.
"Right now, we aren't able to provide housekeeping or other in-unit services because it's just too risky," explained Rebecca Donato, Executive Director of Vitalize 360 at Orchard Cove in Canton, MA. "I think the greenhouse model is a great example for us to think about and what aspects of that might we pull into independent living. In bringing everything into the resident's room, such as housekeeping and emergency response supplies, they've been able to effectively manage infection."
The consensus: COVID-19 has proven the need for flexible, scalable spaces designed to quickly adapt from normal, day-to-day interactions to infection control without compromising the feeling of community.
This informative, and at times sobering, conversation only scratched the surface of what is to come for the senior living industry during and after the pandemic. Currently, there are still many more questions than answers and we need to work together to educate ourselves. As architects, it is our mission to find and implement the solutions that will allow seniors to live the dignified life they deserve.